5 Fun Out of Office Templates
Posted March 29, 2019, by Steve
An OOO (out of office) message can be the most awkward part of your work routine.
While we all love a good break and escaping our busy schedules, we don't want to appear too keen. So we end up relying on an auto-generated OOO that's impersonal at best and robotic at worst!
Time people got the message
Unchaining yourself from that desk is important! And in an age where lounging on a beach is no excuse not to answer e-mails, it's time the over-worked peoples of the world found a better way to tell folk they're out of the loop.
But how to strike that tricky balance between respecting clients and waving bye-bye? Here are 5 cool and fun ways to give your OOO's a kick up the a**…
---
5. Steve's trip to Italy
HubSpot have created a great solution for your auto-messaging needs. It's called the Out Of Office Email Generator. The name pretty much speaks for itself
You can let out an 'ooo' with just a few clicks. Here's an offbeat but amusing example I generated in seconds, imagining I was going to Italy for the week…
Subject Line: 
Ciao, I'll be off for a while
Body: 
If you're reading this email, I thank you for coming this far. Now, I'd like to invite you to go a little further….
If you need to reach me, travel to Italy where I'll be on vacation until 05/06/2019. There, on the highest peak, of the tallest mountain, you'll find a small house with a red door. Open the door. Inside the house, you'll meet a kind, old man who will give you a flower. When you understand that flower, you'll know how to truly reach me.
For those of you not willing to take the journey, please wait until my return or email Basil at [email protected]
(In case you're wondering, Basil isn't a real person, so don't try and e-mail him… he'll only send an out of office reply anyway!)
---
4. Promoting yourself
The best way to combine business and pleasure? Leave an OOO that does some cheeky self-promotion, as well as allowing some breathing space for you.
Subject Line: 
Sorry not sorry
Body: 
Yes, it's one of those out-of-office auto-replies! I'm currently away until (insert date).
That doesn't mean you have to twiddle your thumbs though. We both have the same goal – your success.
Here are some colleagues (insert names if you want) who will take care of you. They'll cut through the waffle and get you to the good stuff before my imminent comeback.
---
3. Movie magic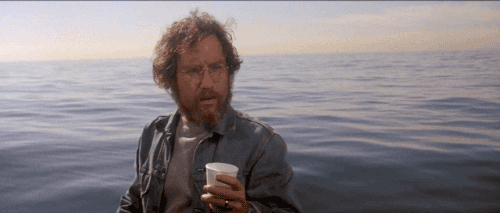 Focusing in the workplace is, of course, important, but a good distraction can take the pressure off a stressful day. Why not give someone a chuckle with movie-style message…? See if you can guess this movie from the text below…
Subject Line: 
Gone fishin'
Body: 
I'm going to need a bigger boat.
Not to catch a shark, but I may catch some rays! Yep, my (insert person here) is taking me on a much-deserved break.
Don't worry, you're still my chum (geddit?) and I'm hungry for those big business fish. Contact (insert) for any super urgent inquiries and I'll be back soon!
Fin
Didn't get it…? It was Steven Spielberg's mega-hit Jaws of course! Jeez, now we feel old… 
---
2. Put them in the picture
If you don't feel comfortable pinging back an apologetic message in your absence, then why not try an image?
Like online greeting cards, there are tons of snappily-captioned pictures to give the right impression. A classic example is below.
Subject Line: 
It had to done!
Body: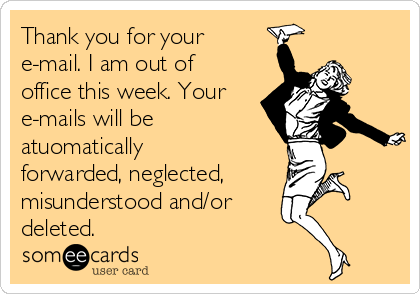 ---
1. Limited access
This in many ways is the trickiest OOO to compose. Modern day workers are expected to be available 'round the clock, and being on holiday is no excuse for some taskmasters.
So a gentle, fun but firm message is required to let readers know you're recharging your batteries and will be with them asap…
Subject Line: 
I'm not here right now
Body: 
Oops, I'm not at my desk.
I'm in currently at (insert destination) and will be back on (insert date). I do have wi-fi where I am but the sun is shining right in my screen and I promised the Sun God I'd soak up some rays.
Rest assured I will reply to your communication as soon as I'm off the plane. Urgent? Not a problem, here are some emergency contact details. (Insert details)
Hope it's sunny where you are! See you soon.
Once you've mastered the art of the OOO, you'll probably feel less stressed and able to work more effectively on your return.
Research has shown that workers are so squeezed they actually feel guilty about going away… some even avoid holidays altogether!
By training yourself to switch off and fly away, you stand to lead a healthier and ultimately more productive life.
Think carefully – and craftily – about when you schedule your days off. Taking a couple of days either side of a public holiday, for instance, means you really make the most of your time off.
Steve